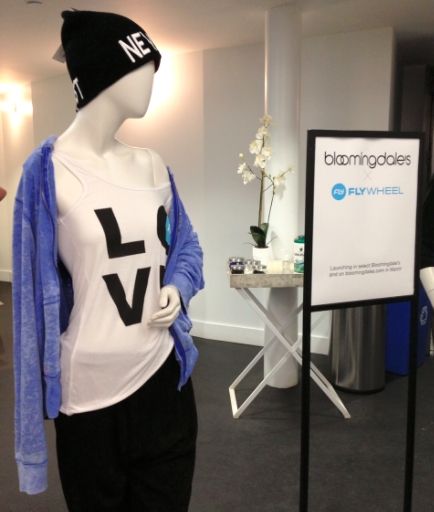 It's hard to ignore the number of fashion brands that have launched activewear collections over the past few years—from Stella McCartney's collaboration with adidas, and Alexander Wang making the chicest jumprope ever, to the infamous Chanel sneakers that graced the runway at the Spring 2014 Paris Fashion Week. It seems that designers can't get enough of the fit world. ShopBop was one the first major fashion retailers to get on board the trend when they launched a line with SoulCycle in January, and now Bloomingdale's has announced partnerships with both Barry's Bootcamp and Flywheel.
Both collections will be available in select retail shops in New York, California, and Florida, and  online at bloomingdales.com.
So is fitness feeding the fashion industry, or vice versa? It's definitely a little bit of both. Boutique fitness studios collaborating with large retailers allows fitness brands to reach larger audiences. You may not live near SoulCycle, but you can still rock the spirit of the brand at your own local spin class or even on your home treadmill. And, ahem, no judgment if you wanna rock that Flywheel tee to bed either.
Fitness's influence on fashion is palpable in less obvious ways too–runway trends like cutout and peek-a-boo dresses show off toned obliques and supple backs, while demure crop tops paired with matching skirts highlight washboard abs and whittled waists. Gone are the days of crepe dresses that hang listlessly over a tiny frame. Strong is the new skinny: the fashion world is finally catching up to the cardio party and we couldn't be happier!